LUMINOODLE Color PLUS
KR. 499,-
INCLUDES BATTERY PACK: Comes with the compact 3400 mAh rechargeable USB battery pack
OVER 500 LIGHTING SCENARIOS: 15 Color options, 3 white modes, 10 dimmer settings and 3 strobe/fade modes make this LED rope light adaptable to any of your lighting needs.
EASY CONTROLS: The Luminoodle Color has a 3 button controller built into the strip as well as a wireless RF remote so you can change your settings whenever you'd like.
EASY TO HANG: The Luminoodle Color includes noodle ties, quick straps, built-in magnets & a utility loop for convenient hanging.
LANTERN MODE: The included nylon ripstop carry bag is designed for both storage and light diffusion. Hang it from your tent to make the perfect tent LED lantern.
POWERED BY USB: Any 5V, 1A USB port can power the Luminoodle Color. Whether you use a portable battery pack to have a portable RGB LED light strip on your adventures, or in a wall adapter so you can hang it as a night light, the Luminoodle is ready.
WATERPROOF: IP-67 rated (up to 1 meter for 30 minutes)
The Luminoodle Color is 1.5 meter of waterproof, flexible, ultra-bright light that you can use in nearly any situation. From camping to your home or even the next music festival, the Luminoodle Color will take your nighttime activities to the next level.
VERSATILE LIGHT
Hang it up as a tent light, use the magnets to attach to the hood of your car, or throw the Luminoodle in it's rip-stop nylon bag to diffuse light and turn it into an LED lantern. Powered by USB, the Luminoodle Color is compatible with nearly all standard USB ports (minimum 5V, 1A).
ANYTIME, ANYWHERE
This waterproof outdoor LED lighting setup ensures you are always well lit! The Luminoodle is not your generic lantern, it gives you the flexibility of having both a lantern and a string light in one product. Whenever you need it, wherever you are, the Luminoodle's ready.
When placed in the included rip-stop nylon bag, the Luminoodle acts just like a lantern by diffusing light and spreading it 360 degrees. Wrap Luminoodle around any USB battery pack, turn it on, and stuff it in.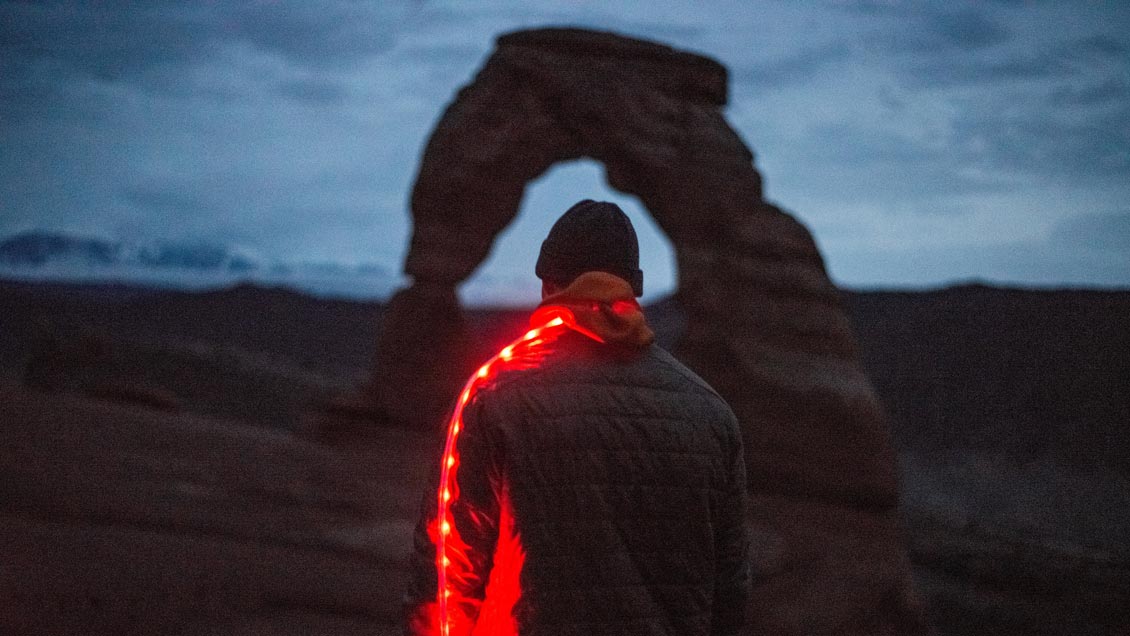 TTake the Luminoodle out of it's bag, unwrap the 5 ft of LEDs and strap, magnet, or loop it to whatever you have handy!
The included magnets allow you to stick the Luminoodle to any metal surface. Extra straps make securing your light rope even easier. Use it in your garage or under your car hood!
SAFETY LIGHT FOR NIGHT ACTIVITIES
Being a pedestrian in the city at night can be dangerous. Wrap the Luminoodle around yourself before you go out! Luminoodle works as a great night safety light illuminating you in all directions.
Stick your Luminoodle to your car, picnic table, or other metal surface to light up your nighttime activities.
Plug your Luminoodle into a USB battery pack, wall adapter, or any USB power source. The reversible USB plug allows you to plug in your Luminoodle easily in the dark.
Luminoodle Specifications
Lithium 3400 Specifications