LUMINOODLE BIAS LIGHTING
KR. 299,-/399,-
IMPROVE YOUR VIEWING EXPERIENCE: This RGB LED strip has 3M adhesive backing and provides enough length to provide a balanced backlight. Use the 2m length for TVs up to 55" and the 3m length for TVs up to 70".
15 COLORS + DIMMER: Choose from 15 colors, warm white, white and cool white, and 10 dimmer options to make your viewing experience exactly what you need.
POWERED BY USB, this TV bias lighting system can be powered by most TV USB ports, computers, or wall USB adapters. Powers on and off with your TV's USB port. Power Required: 5V, 1A
REDUCE EYE STRAIN: TV backlighting makes for better contrast ratios through a balanced backlight and reduces eye strain caused changes in picture brightness from scene to scene in games, shows and movies. Get rid of eye strain in your home theater by adding this as your RGB theater lighting.
LEDs MADE TO LAST: The Luminoodle TV's high quality LEDs are rated for 50,000 hours of lighting.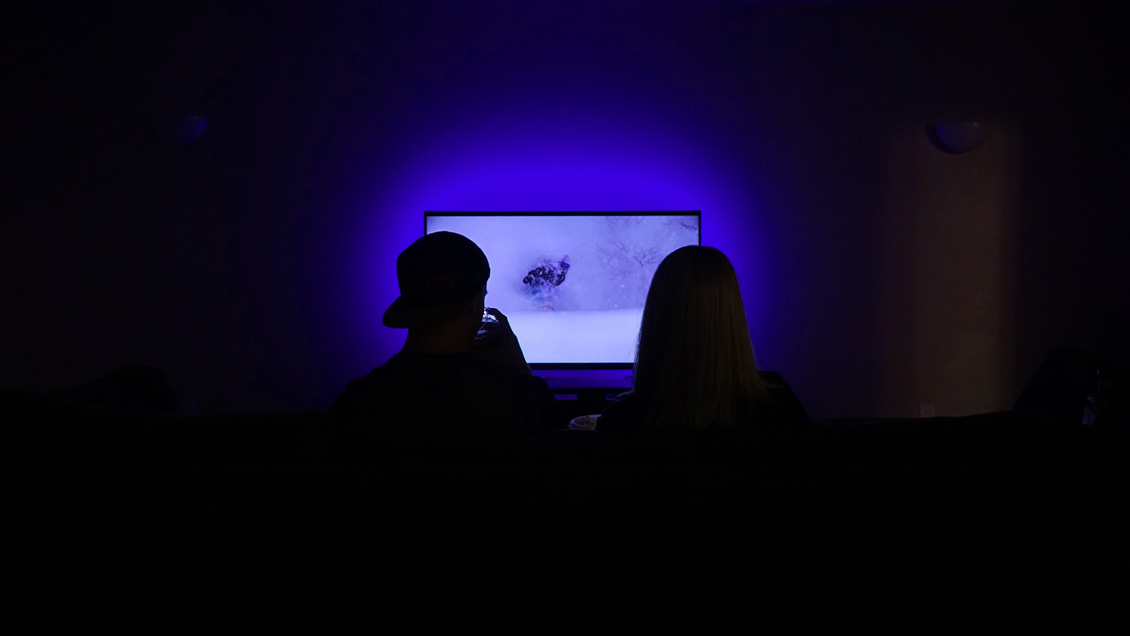 LUMINOODLE COLOR BIAS LIGHTING
The Luminoodle TV Color not only provides simple yet beautiful ambient lighting but also enhances your viewing experience so much that you'll wonder what you did without it. Use the Luminoodle's in-line controls or wireless remote to choose from any of 15 colors and 10 brightness settings to best meet your viewing needs.
WITHOUT THE LUMINOODLE TV BACKLIGHT
You either turn on a lamp and fight the glare on your screen throughout your entire viewing experience or suffer from the annoying headaches, eye strain and dryness that result from looking at a bright screen in a dark room. Luminoodle Color Bias Lighting for TV and monitors saves your eyes while allowing you to create your perfect viewing experience.
WATCHING TV WITH THE TV BACKLIGHT
Let your living room glow with subtle, beautiful light. Change it to the color of your favorite sports team on game day, lower the brightness level for mood lighting, or keep it on your favorite shade of white to enjoy the perfect TV ambient lighting.
PROVIDES BENEFITS ON ANY SCREEN
Two sizes available to provide backlight on nearly any size TV or monitor. You can trim the backlight every 2 inches for the perfect fit, every time.
Secure the bias light to the back of your TV or monitor with the included 3M adhesive backing.
The built-in reversible USB plug make the backlight easy to power from your TV's USB port so that it can turn on and off with your TV's USB port. USB port doesn't power down with your TV screen? Use the Luminoodle's remote to manually turn off the light.
Watch The How To Install Video
Watch the how to install video to learn how you quick can setup your Luminoodle Bias Led Strip